We at Sierra Donor Services Eye Bank are raising awareness about the life-changing opportunities that are created through eye donation.
Eye Donation Month raises awareness about cornea donation and transplantation, honors selfless donors who gave the gift of sight, celebrates recipients whose lives have been transformed, and educates about donation and encourages individuals to register as donors.
"Eye donation" doesn't mean the entire eye is transplanted; instead, only the cornea (the clear, dome-shaped surface that covers the front of the eye) is replaced, restoring sight for those with cornea-related blindness.
In celebration of Eye Donation Month, we will be sharing stories from people who have received the gift of sight, facts about eye donation and launching a live video of us talking to a donor family member and how they were impacted by donation.
To kick off the month, please enjoy this video from Alexis, a cornea recipient, as she shares her story of eye donation and how it impacted her life.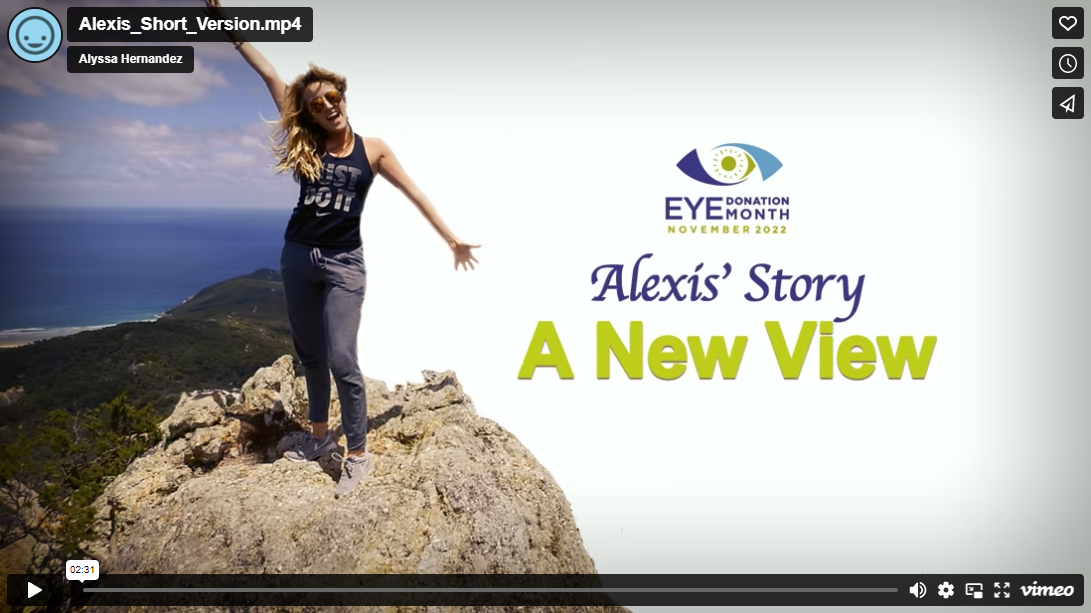 Eye Donation Facts
The entire eye can be used for research and education, potentially helping untold thousands of people regain their sight as researchers develop new understanding of the causes and effects of eye conditions that lead to blindness.
Eye, tissue, and organ donor registration can be done via https://sierraeyebank.dcids.org/#register, individual state registries, or through the Department of Motor Vehicles. It is important for prospective donors to notify family of their decision because the family's cooperation during a medical/social history interview is required before transplantation.
Since 1961, Eye Bank Association of America (EBAA) eye banks have restored sight for more than 2 million individuals worldwide. Currently there are an estimated 12 million people suffering from corneal blindness around the world.
Our eye bank is a nonprofit organization that obtains, medically evaluates, and distribute corneas donated by caring individuals for use in corneal transplantation, research, and education.
Anyone can be a potential donor regardless of age, race, or medical history. (When it comes to corneal tissue, everyone is a universal donor; your blood type does not even have to match.) Practically, anyone who is above one year of age can donate their eyes, and there is no upper age limit.