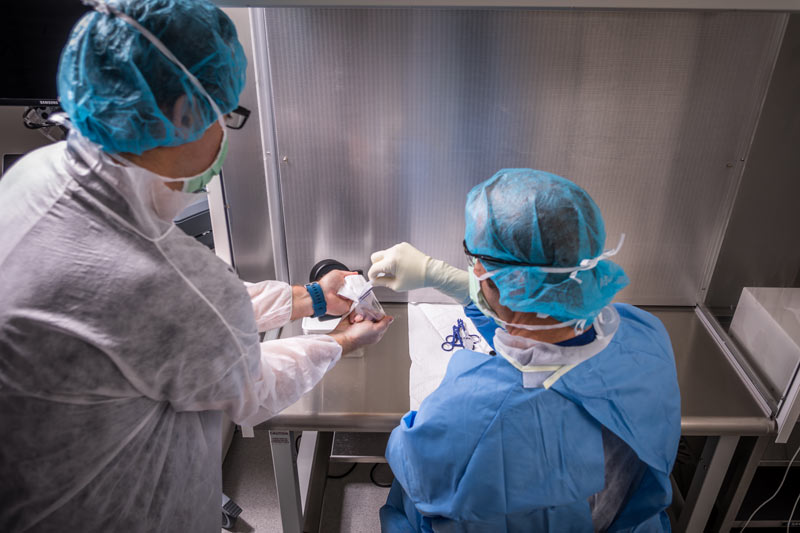 Focused on Safety
Displaying an extraordinary commitment to quality and excellence, the Sierra Donor Services Eye Bank adheres to the highest standards for safety and efficacy of tissues, ensuring that all recovered corneas are optimal for transplantation. Sierra Donor Services Eye Bank is the preferred provider of ocular tissue in the communities from where our donor tissue is recovered. We are driven by a team of professionals who are passionate about assuring that quality ocular grafts are delivered to meet surgical needs and enhance the lives of patients.
SDS Eye Bank's robust quality systems ensure that each ocular graft meets or exceeds stringent regulatory requirements. The Sierra Donor Services Eye Bank is fully accredited for recovery, processing, tissue storage, final distribution, tissue evaluations, and donor eligibility determination by the Eye Bank Association of America (EBAA). SDSEB also meets and exceeds all standards set by the US Food and Drug Administration (FDA).
Focal Point – Quality
The Sierra Donor Services Eye Bank Quality Department performs a full quality audit of every procedure, including a review of all medical and hospital reports for each donor. This exhaustive review includes a thorough examination of hospital records, laboratory and pathology reports, donor recovery records, tissue processing and any other pertinent information to determine suitability of tissue for transplant. Our quality department also ensures that laboratory space, equipment, and materials are in compliance with maintenance, monitoring and storage requirements of all regulatory bodies.
Sierra Donor Services Eye Bank's entire Quality Department staff has received multiple certifications through the American Society of Quality (ASQ), the national body which oversees quality. This degree of quality certification is rare within the eye bank industry and contributes to our organization's culture of quality and process improvement, which translates into full confidence in the safety and quality of our tissue — on the part of our surgeons, partners and patients.
Donor Screening
The SDS Eye Bank has strict donor screening and eligibility criteria to mitigate the risk of disease transmission. This involves obtaining and reviewing a comprehensive social and medical history of the donor. This process adheres to rigorous guidelines set by all governing bodies, including the Centers for Disease Control (CDC) and the FDA.
In addition, all processes and equipment are validated by our medical directors to ensure consistent results and adherence to high standards. And finally, our eye bank technical staff is routinely evaluated by our medical directors to ensure consistent, optimum outcomes.