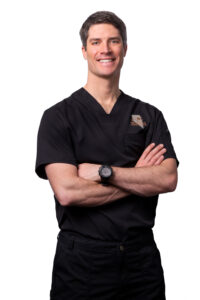 We are proud to announce that we have a new Associate Medical Director, Caleb Morris, MD in Reno, NV.
Dr. Caleb K. Morris is a Board-Certified Ophthalmologist specializing in corneal and cataract surgery at Nevada Eye Consultants. After graduating cum laude from Brigham Young University, he attended medical school at Duke University School of Medicine. Dr. Morris continued to the Baylor College of Medicine where he completed his ophthalmology residency. Following residency, Dr. Morris joined the Pepose Vision Institute for an anterior segment fellowship, which included training with one of the pioneers and current leaders in cornea and refractive (LASIK) surgery.
Prior to being recruited by Nevada Eye Consultants, Dr. Morris established the first cornea and refractive practice in Kalispell, MT, providing vision saving treatment to many patients in underserved areas of Northwest Montana.
Dr. Morris is highly experienced in caring for the front portion of the eye, and he is able to perform intricate corneal transplant procedures customized to each patient's unique needs. He is committed to offering high-quality, personalized care — whether a patient needs a cornea transplant or cataract surgery. Dr. Morris works closely with each individual to understand their concerns, and recommends the most beneficial solution based on their goals.
When not helping patients, Dr. Morris enjoys spending time outdoors with his wife, Courtney, and their three children. They are excited to call Nevada home.